When setting up contact forms on a WordPress website, many people simply expect them to work without requiring configuring SMTP servers to send the outbound mail and then authenticate with services like SPF and DKIM to ensure form notifications stay out of the spam box.
Without setting up an SMTP service to send outbound mail on your WordPress website, the default option on WordPress is to send through php using phpmailer. This method of sending mail is unauthenticated and often blocked by email spam filters.
To make setting up SMTP sending on your website as painless as possible, we recommend installing the free SMTP plugin WP SMTP by WPForms . It can be used to quickly authenticate an email account for outbound email delivery on your WordPress site. If you don't have a dedicated SMTP service, a free account can be setup with Mailgun which specializes in this kind of transactional email. You can use services like Gmail and Yahoo, although due to limitations with free services they are often not suitable for many websites and may only lead to more problems.
These added steps are there to ensure your mail is trusted among other email service providers. There is also potential for some troubleshooting if someone notices they are not getting the notifications. This is where email logs come in.
Email logs are your best friend when someone says they did not receive the email. You can check the logs for the time and date the email was supposed to be sent and examine the status code of the message to determine if it was delivered to the recipient. We have a list of SMTP status codes here if you are unsure.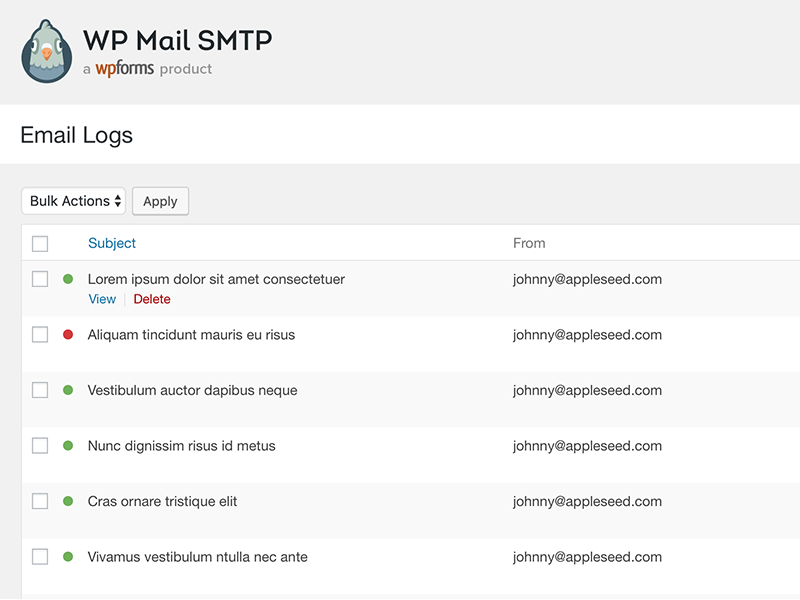 Using WP Forms to send via SMTP, you will increase the security of your site and the private information of your users.
Enabling email logs in WPForms is just another way to help you ensure your form notifications are reaching their recipients. It is important to note that there is also an option to include the email message content in the email logs. This is not needed in order for the email logs feature to work. It will however increase the size of your WordPress database and save potentially private or personal information in your database. There is not really any need to log the message also as many premium plugins for forms already do this.
If you need help ensuring your forms are delivered all SMTP notifications are being sent, then please contact our support team to see how we can help you.